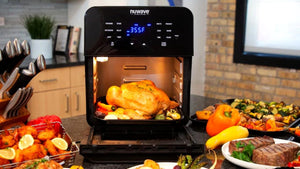 3 Best Air Fryer for Dorm Rooms in 2022 (Our Recommendations)
Whether you're a college student living off-campus or in the dorm, your life can be very stressful because of hectic schedules. You may prep and pack your meals for the upcoming day or eat fast food because you're too busy to make yourself home-cooked meals. 
Some even resort to eating noodles, canned foods, chips, etc., allowing the consumption of high-fat and high-sugar foods. To save money and time on food, lots of students are inclined to have an air fryer for dorm rooms which comes with numerous benefits just like their larger counterparts. 
This blog post is all about air fryers for the dorm room. We'll suggest our top 3 air fryers for dorm rooms and tell you what you need to know about using air fryers in your college dorms or hostels. So, let's get started. 
3 Best Air Fryer for Dorm Room: Our Recommendations 
Our recommendations for these portable air fryers will make sure you get the best value for your buck: 
1. COSORI Smart 12-In-1 Air Fryer: Best Overall 
Looking to cook your favorite meals faster? Check out the Cosori Smart 12-In-1 Air Fryer. This air fryer uses up to 85% less oil than traditional deep fryers while maintaining the same crispy textures.
With 12 different cooking functions, including air fry, dehydrate, bake, defrost, and ferment, you can make almost any type of meal. The extra-large capacity fits up to 6 slices of bread, a 12-inch pizza, or a whole chicken. 
The included cookbook has 30 chef-made recipes, and you can customize your own cooking functions to make your favorite meals exactly how you like them. The Cosori Smart 12-In-1 Air Fryer is the perfect oven for anyone who wants to cook faster and healthier meals.
Pros
Has a large cooking surface area

The basket and drawer easily slide in and out

The app is user-friendly, and the fryer is easy to operate

The oven doesn't require as much oil as traditional deep frying methods

Makes extremely delectable cuisine

Lots of recipes, including Chicken Tikka Drumsticks and Lemon Pound Cake

There's also a preheat button

Includes a 1-year warranty 
Cons
The buttons on the touch screen are a bit noisy

There isn't a rotisserie option. 

When you pull the basket out to shake it, the timer pauses and then resets at the full minute when you put it back in, which may cause cooking timings in a recipe to be wrong if you open it multiple times. 

The oven is only compatible with US and Canadian power outlets


2. NUWAVE Smart Large Air Fryer: Best Oven & Grill Combo
The NuWave Smart Large Air Fryer is a versatile and convenient appliance that allows you to cook all your favorite foods. Its intuitive digital controls and integrated temperature probe make it easy to operate and ensure that your food is cooked perfectly every time. 
It is the perfect appliance for busy households on the go. It is programmed with 100 pre-programmed menus presets for grilling, air frying, baking, broiling, roasting, dehydrating, reheating, defrosting, toasting, etc. Additionally, it has 50 memory slots where you can save and recall your own favorite recipes. 
The NuWave Smart Large Air Fryer also features Linear Thermal (LINEAR T) Technology, which allows you to fine-tune your own temperature settings from 50F to 425F in precise 5F increments. This technology also accurately maintains the set temperature throughout the cooking process.
Pros
The NuWave Smart Large Air Fryer has many features that make it a great appliance for the kitchen. Some of the pros include: 
The ability to adjust the temperature on the fly, 

The fact that it is healthy for fried foods 

The easy cleanup

Ability to save your favorite recipes

Ability to maintain the set temperature accurately throughout the cooking process
Cons
Some of the cons of the NuWave Smart Large Air Fryer include 
The fact that it is a bit pricey and 

It is large and takes up a lot of counter space. You should only take it to your dorm if you've got a spacious room. In that case, it'll be the best versatile oven + grill + fryer you will ever buy. 
3. COSORI Large Smart Air Fryer: Best Budget 
The COSORI Large Smart Air Fryer is a Wi-Fi-enabled air fryer that can be controlled with your phone using the Vesync app. It also works with Alexa and Google Assistant for hands-free control. 
The air fryer has a large 5.8-quart capacity basket that can fit a whole rotisserie chicken or food for 4, making it perfect for the entire family. The air fryer is ETL Listed and has a temperature range of 170400F / 77205C.
The WiFi Smart Air Fryer is the perfect addition to any kitchen. With its large capacity and the ability to cook a whole rotisserie chicken, it is a wonder that it comes within a prize bracket of just a little over $150! 
Pros 
You can control it with your phone 

It has a lot of recipes 

It is healthy and efficient 

It is easy to clean 

It has a large capacity 
Cons 
It only works with a 2.4 GHz WiFi network 

It has a limited temperature range
What's the Point of Having an Air Fryer? What Makes Them Good for Dorm Rooms?
We've told you what, but we haven't told you why. Why should you rely on an air fryer in your dorm? Air fryers undoubtedly simplify our everyday cooking by saving us time and requiring us to exert less effort. Check out the following advantages:
#1. You Can Cook Healthy and Nutritious Food 
Cooking with an air fryer uses less oil. As a result, you'll be able to prepare your favorite deep-fried foods with far less oil, fat, and calories. Therefore, the meal will be more nutritious than cooked on a conventional stove.
In fact, air fryers were first created to help people with health problems, including heart disease and diabetes. That's why it's an excellent dorm room appliance. 
You may be forced to consume unhealthy foods because you won't always have time to prepare. However, using an air fryer may ensure a delicious and healthy diet.
#2. Harmless and Timeless Cooking 
Almost all air fryers come with instructions on how to operate them. The food may simply be placed into the pot. The heated air within will crisp the outside and tenderize the inside of the dish.
All you need do is flick the switch on and off. When the air fryer starts to overheat, just unplug it, and remove your food.
You must remove the frying basket and clean it manually or use a dishwasher to clean air fryers. Wiping out the surrounding region will be enough for routine maintenance. You may thoroughly clean it once a week if you use it regularly.
#3. You Don't Have to Clean Any Mess
Typically, first-year college students create a huge mess when cooking. However, you can't go wrong with an air fryer since it's easy to use. Most air fryers include presets, which eliminate the need for manual adjustments.
You may, however, set it up on your own if you choose. Again, since an air fryer uses less oil, it doesn't become as dirty as traditional frying. You just need a little storage space to set up your air fryer. 
That's why it's more suited to your dorm rooms, which often have storage concerns.
Conclusion 
Air fryers are emerging as the favorite way to cook, and it isn't surprising why. They are easy to use and clean, significantly reducing cooking time. 
If you are living in a dorm room and wondering what air fryer to get, I hope this post will help you make an informed buying decision. Users have reviewed the three different models we rated here as the best air fryer for dorm rooms. So, you don't have to worry about the reliability of these products. 
Happy Cooking! 
FAQs 
1. Can I bring an air fryer to college?
Answer: Whether you can bring an air fryer to college depends entirely on your institution's safety policies and procedures. If you're thinking of getting one to college, check the laws and restrictions first, and then bring it if it's okay.
You should be aware that most universities do not allow air fryers owing to safety concerns, such as the risk of overheating and causing a fire. 
2. What can you make with an air fryer?
Answer: An air fryer is a multipurpose kitchen tool. You may use your air fryers to prepare everything from appetizers to major courses to desserts.
For starters, you can make French fries, fish fries, and carrot fries. It will most likely just take 15 minutes. You may also prepare savory foods such as frozen chicken, pizzas, and fajitas.
3. Do air fryers emit smoke?
Answer: Air fryers are meant to produce no smoke when used. However, if an air fryer is misused, it might cause it to smoke. You may wish to add additional oil to any crispy food item to increase the crispiness. Your air fryer may release white smoke because of this.
4. What appliances are allowed in dorm rooms?
Answer: If you're a freshman and want to know what appliances you may bring to the dormitories, here's a list:
Waffle maker 

Bread toaster 

Coffee machine

Kettle (Electric)

Hairdryer

Rice cooker

Curling iron, etc. 
5. What appliances are not allowed in dorm rooms?
Answer: Here's a list of appliances that aren't permitted in a dorm room for your convenience —
Cooling system

Oven toaster

Dishwasher on wheels

Oven for pizza

Instant pot 

Deep fryer

Induction burner
---