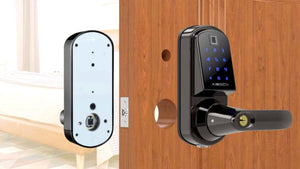 Are Smart Door Locks Safer Than Traditional Locks? (Comparison & Buying Guide)
While smart locks may not be new, there's been a surge in popularity recently. Smart door locks make it easier to enter your home. You can even add smart locks to an existing lock. The technology ensures you never have to worry about lost or stolen keys again. Plus, some smart locks are easy to program and use right away.
However, are smart door locks safe? Are they really as good as the advertisements say? Considering that traditional locking systems allow users to simply pass their keys or access cards, are smart locks really less of a security risk?
If you were considering upgrading to a smart door lock but aren't sure if they're really any safer than traditional locks, then you've come to the right place. In this article, we'll compare the two types of locks and help you make an informed decision about which is right for you.
What Are Smart Door Locks?
Smart door locks are a type of door lock that uses an electronic locking mechanism instead of a traditional key. Smart door locks can be opened with a PIN code, a keycard, a fingerprint, or even a smartphone. 
They offer a higher level of security than traditional door locks and can be controlled remotely, making them ideal for use in home security systems.


What Are Traditional Door Locks?
Traditional door locks are the most common type of door lock and use a physical key to unlock the door. Traditional door locks are less secure than smart door locks and can be picked or forced open relatively easily. 
However, they are often more affordable than smart door locks and can be easier to install. In fact, it's probably the lock you're using right now at your home! 
Smart Lock vs. Traditional Lock
Smart locks are the new thing, but traditional locks have been around for a long time. Smart locks are a great way to keep your home safe, but there are some things you should know about before you buy one.
We'll go over the advantages and disadvantages of smart locks, as well as the advantages and disadvantages of traditional locks.
Advantages of Smart Door Lock
Smart locks have a lot of advantages over traditional locks:
They're more secure. Traditional locks can be picked, but smart locks only open to your fingerprint or code. 

You can let people into your house remotely. Traditional locks require you to be home to let someone in, but smart locks allow you to let someone in from wherever you are. 

You can set alarms and timers on your smart lock so that it automatically locks when you leave or stays unlocked until a certain time comes along. 

You don't have to worry about keys or keypads or anything else—it's all electronic now! 
Disadvantages of Smart Door Lock
But there are disadvantages too:
Smart locks need batteries, so if your battery dies while you're out and about, no one will be able to get into your house. 

They are more expensive than traditional locks; some cost over $100!
Advantages of Traditional Door Lock
Traditional door locks are very simple and easy to use. You can easily lock or unlock the door by turning the knob or pushing down on the latch. 

They don't require any advanced skills and they are very reliable. 

Many people choose this type of lock because they are very affordable and easy to install. 

You can find these locks at any hardware store or home improvement store. 
Disadvantages of Traditional Door Lock
The major disadvantage is that if you lose your keys, there is no way to open the door without breaking it down or drilling through it. 

If someone has access to your key ring, it would be easy for them to break in when you're not home. 

Another disadvantage is that these types of locks only have one point of entry into your home, so it's easy for someone who wants to break into your house to simply break through this type of lock and gain access to your home without having any tools; on hand at all!
Are Smart Locks Safer Than Key Locks?
So, now that you know the advantages and disadvantages of each type of lock, we can conclude: are smart locks safer than key locks? 
The short answer is yes. Smart door locks are designed to protect your home and its occupants. A traditional lock can only keep intruders out of your home, whereas a smart lock can also monitor who comes and goes from your home using the app or voice control.
The longer answer is that the safety features built into smart locks vary from model to model, so it's important to research the different options before making a purchase. Some models can be programmed to automatically lock when you leave the house, while others allow you to give temporary access through Virtual keys or guest access codes.
Does this mean that traditional key locks are less secure? Not necessarily. Traditional keys are still a great way to control who has access to your home when you're not there — whether it's family or friends visiting for dinner or contractors working on a renovation project. But if you're not comfortable with leaving keys around for everyone who visits, then a smart lock might be a better option for you!
4 Best Smart Door Locks – Our Recommendation 
You probably have already decided whether you want to buy a smart door lock or not. If your answer is positive, here are 3 of your best smart door locks that you can purchase right now to safeguard your home from burglars. 
1. Right Handle Keyless Entry Smart Lock
The BBEN right-handled keyless entry smart lock is a great solution for those who are looking for an extra layer of security for their home. With the ability to auto-lock after 5 seconds, this lock will keep your home safe even when you're in a hurry. 
Additionally, the passage mode allows for seamless entry and exit during your chosen schedule. Installation is easy and can be done with just a screwdriver, making it a great choice for those who are looking for an easy-to-install option.
2. 5-in-1 Keyless Entry Smart Door Lock W/ Bluetooth
The 5-in-1 keyless entry door lock is a fingerprint + smartphone (Bluetooth) + Fob/IC card + code + mechanical key door lock that is compatible with external wooden doors with a key entry. It is suitable for most standard residential wooden doors with a door thickness of 1.49" to 1.90". 
The smart lock provides the ability to manage all keys and monitor usage to see who unlocks the door and when. You can also grant and control access to everyone (family, friends, or neighbors), grant access for weeks, days, or hours, and modify or remove access as needed, all at your discretion. 
The front and back panels of the smart lock are made of zinc alloy material, which is waterproof, dust-proof, sun-proof, shock-proof, anti-corrosion, high temperature, and has low-temperature resistance. The smart lock is also easy to install. There is no need for a professional locksmith, no need to connect any wires, and it is effortless to operate. 
3. Smart Biometric Fingerprint Door Lock
Looking for a sleek and modern way to upgrade your home security? Look no further than the NGTeco smart biometric fingerprint door lock! This high-tech door lock uses your fingerprint as an instant recognition passcode to unlock your door in seconds. 
You can also use the NGTeco Home Map via Bluetooth or Wi-Fi to unlock the door or use the keypad or key for a more traditional approach. 
The Smart Biometric Fingerprint Door Lock is perfect for self-housing residents, Airbnb short-term rental hosts, and rental property management. Plus, the simple DIY installation will make upgrading your door lock a breeze!
4. Smart Deadbolt Electronic Fingerprint Door Lock W/ Keypad
This smart deadbolt electronic fingerprint door lock is a keyless entry door lock that opens with your fingerprint. It is compatible with Alexa or Google Assistant (Requires a Wi-Fi gateway to hook it up to the Internet, sold separately). 
The Smart Lock also has a smart Bluetooth keypad that allows you to remotely control your lock anywhere, anytime, set up codes remotely, and check real-time access logs. You can also customize the management of your lock to generate time, permanent, one-time, or customized passcodes for guests, friends, housekeepers, or employees. 
The Smart Lock has an intuitive OLED display, Zinc Alloy body, and long battery life. It will automatically lock for 5 minutes when entering the password incorrectly more than 5 times for security reasons. The Smart Lock is an excellent solution for homes, hotels, Airbnb, etc.
Summary 
Are smart door locks safer than traditional locks? This is a question that many people are asking as they try to decide which type of lock to purchase for their home.
There are a few things to consider when answering this question. First, smart door locks tend to be more expensive than traditional locks. However, they also offer a few features that traditional locks do not, such as the ability to track when people enter and exit your home and remotely lock and unlock your doors.
Second, it is crucial to consider the security features of each type of lock. Smart door locks typically have more sophisticated security features, such as the ability to require a PIN code or fingerprint to unlock the door. Traditional locks usually do not have these same features.
Third, it is also worth considering the convenience factor. Smart door locks can be controlled remotely, which means you can let people into your home without being there yourself. Traditional locks require you to be present to let people in.
Considering all these factors, it is clear that smart door locks are the better choice when it comes to safety and security. They may be more expensive, but the extra cost is worth it for the added security and convenience.
---